Ferguson Family Dairy Center
Our Facility
The OSU Ferguson Family Dairy Center encompasses approximately 300 acres of pasture with an additional 80 acres of tillable land nearby.
The dairy provides hands-on experience and research opportunities for undergraduate and graduate students. Helms Hall, student housing, provides student workers with modern, comfortable living at the dairy.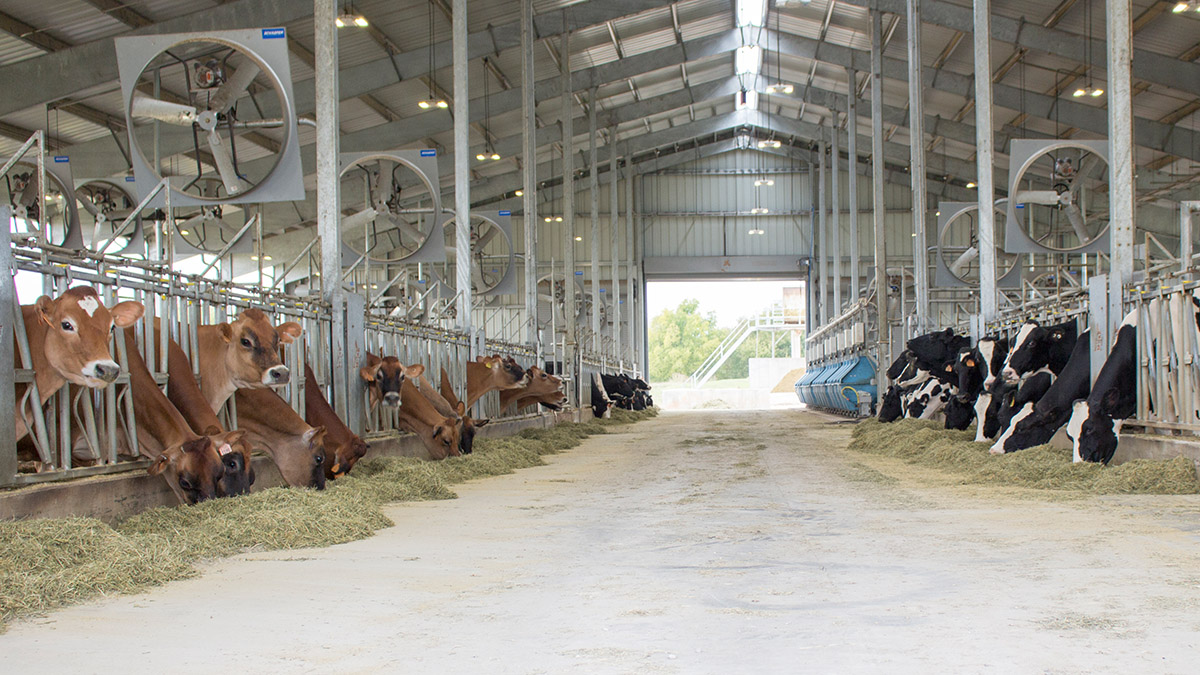 ---
The dairy herd consists of approximately 60 Holstein cows and 40 Jersey cows that are milked twice daily.
The milking facility is a double-six herringbone parlor with automated cow identification, milk yield recording, and milking unit detachers. The facility produces around 2,200,000 pounds of milk a year. Holsteins average 70 pounds of milk per day with 4% fat test whereas Jersey cows average 45 pounds of milk per day with 5% fat test.
The freestall barn houses the entire milking herd. It features sand bedding and designated pre-fresh, maternity, fresh, and calf managing areas. Cows are fed a total mixed ration containing alfalfa hay, whole cottonseed, and concentrate (including corn grain). Waste management system utilizes a pop-up flushing system with a solids separator and sand settling lane for sand recycling.
The Insentec feeding system in the freestall barn has 16 feeders and two waterers. This system can record the feed and water intake for up to 32 cows. A data center collects information from the Insentec system daily.
The former bull barn currently provides stalls for individual feeding or penning of cows who may need isolation or attention for health purposes, or which may be used in research, embryo transfer, or cooperative work with the OSU College of Veterinary Medicine.